(Read About the CSA)
 CHARTER
PART I – CSA DETAILS
Name of organization
Content Strategy Alliance
Mission
Elevate the field of content strategy by helping individuals become better content strategists AND helping businesses and organizations improve their content and processes to deliver and govern content.
Vision
To establish recommended content strategy standards and provide an evolving repository of information and resources that responds to emerging technologies and marketplace trends.
To become a vital resource for businesses and organizations by engaging with them to understand their needs and to provide insights into how, where and when content strategy practices should be used, allowing them to remain competitive and achieve organizational goals and objectives regardless of emerging technology or changing consumer or user behaviors.
Guiding Principles
We will help guide content strategy practitioners – new and seasoned – by:
Offering mentorship
Providing or recommending learning opportunities
Creating a repository resource for information, tools, and techniques
We will help businesses and organizations capitalize on the value of content strategy by
Showing how content is and continues to be a business asset worthy of investment
Understanding business needs through research and surveys
Informing industry of CS recommended practices
Assisting industry in understanding the content life cycle and deliverables
Conducting industry workshops and events
Membership
Membership is open to anyone interested in elevating the field of content strategy.
PART II – STANDARDS
Content Strategy Definition
Getting the right content to the right user at the right time through strategic planning of content creation, delivery, and governance.
 Content Strategy Phases
1. PLANNING PHASE
During this phase, the strategic intent, goals and objectives of the project will be identified.
Questions to answer are:
"How should success be measured?"
"Who are the decision makers?"
"What is the reason we are doing this?"
2.  ASSESSING PHASE
This phase will determine the "where, what, who and when" of your content: where it lives; what content you have, if it is original or syndicated and if there are any restrictions on its use; who in your organization "owns" the content and when it is reviewed and updated. You should evaluate the content of your competitors to determine which content you may be missing.
3. ANALYZING PHASE
In this phase, examine the content critically to determine how it can be improved.
4. DESIGNING PHASE
In this phase the deliverables that are the core of the design will be created. You will do a deeper design of the future-state content solutions for all aspects of the content ecosystem. Work will be done to streamline and align the content workflow and approval processes, ensuring the proper structure and processes are in place to create, maintain and govern your content over time.
5. MAINTAINING PHASE
Rinse & Repeat.
This is an ongoing phase where you will monitor and control your content. You should continue to evaluate its effectiveness and performance annually, quarterly, monthly or even weekly, making decisions on how to seed and feed your content for continual success.
In the maintain phase, you might leverage any or all of the information and templates found within this handbook.
Thus, the focus becomes the evolution of the content experience and content ecosystem. Governing, seeding and evolving your content are the primary drivers of this effort. Ultimately, your goal should be delivering the best content that reflects the evolution of your business goals and objectives and those of your users.
PART III – WHERE A CONTENT STRATEGIST FITS INTO AN ORGANIZATION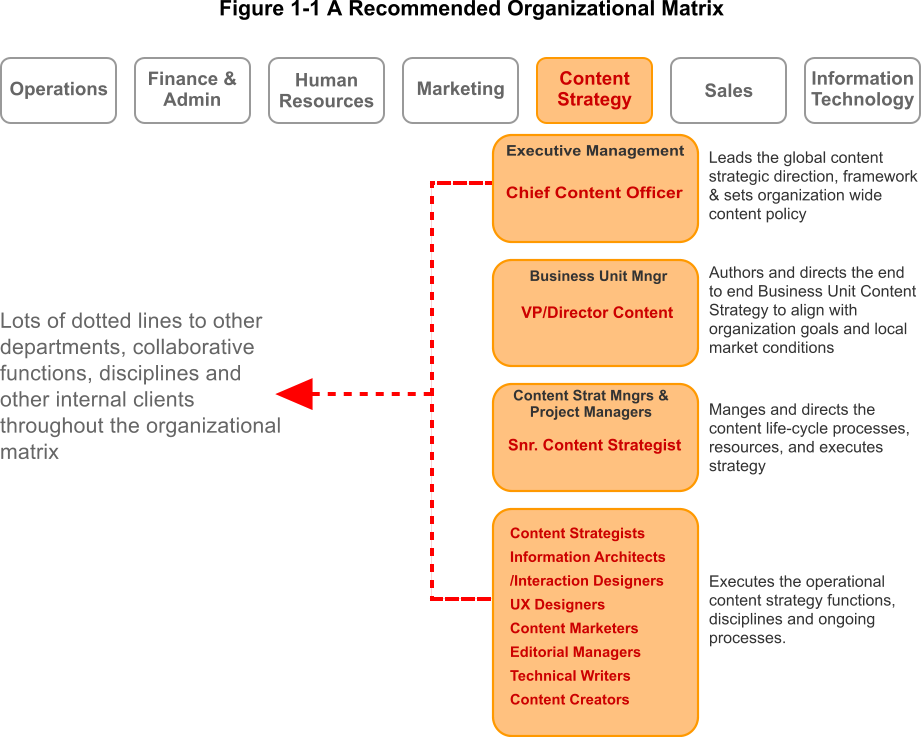 The ideal functional organization of the content strategy discipline within a company might look like the above diagram depending on the type and size of the organization:
Content strategy is a higher-level strategic management function that combines technical skills with soft skills and business acumen.
Content strategists have a broad understanding of CS disciplines and practices and can use that knowledge to solve business problems and meet objectives.
Content strategy by its multidisciplinary and cross-functional nature is a collaborative function that works well in a matrix environment, but to remain impartial and  undistracted it needs to have an autonomous organizational alignment if it is to serve the company well across all functions, business units and audience touch points.
Work needs to be done to create our own strategies and plans that elevate and position CS as a broad-reaching, autonomous, strategic management function that can add value across the entire business ecosystem.
July 5th 2014